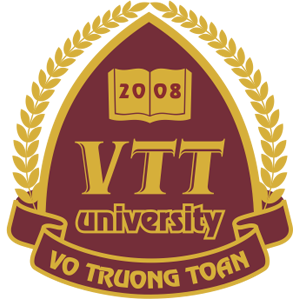 The logo of Vo Truong Toan University has the shape of a shield.
– Shield – Symbol of balance, solidity and stability. Shows the strong standing of a prestigious and quality university.
A strong shield with protective properties, at Vo Truong Toan University, each student is a citizen of the "University City" – European architectural style with standard quality education and all enjoy a modern professional education of regional stature.
The shield symbolizes courage, Vo Truong Toan University always strives to become a unified collective, taking the lead in the training of knowledge human resources.
The shield shows a strong will, ready to cope with all difficult circumstances, the road to the height of knowledge has many thorns and challenges. Vo Truong Toan School always strives to create the best learning and living environment for students to think creatively.
The symbol of Vo Truong Toan University has a crest located in the center, expressing the development feature through a strong and focused directional meaning. Expressing the aspiration towards the future, towards the best in the journey to discover new intellectual horizons.
– The image of two elegant yellow rice flowers forming an arc around them, reminiscent of warmth, peace, and happiness. Rice grain as the most complete symbol for prosperity and sustainable development. Creating a connection with the noble profession of teaching, under the roof of Vo Truong Toan University, the seeds of knowledge have been planted, sprouting high hopes and green branches to give wings to dreams of success.
Vo Truong Toan University is located in the cradle of wet rice civilization, the beginning of the "rice road" in the Mekong Delta. The rice plant for thousands of years feeds the Vietnamese people, so the image of the rice flower has a special meaning and is the most typical representative of the Vietnamese Fatherland.
– The symbol of the book between the logo and the year of establishment of the University means that this is an important milestone marking the birth of a "University City".
From here, a new book page that promises a bright future with many good things has opened, modern education is like an open book providing knowledge as a foundation for the University to convey to students.